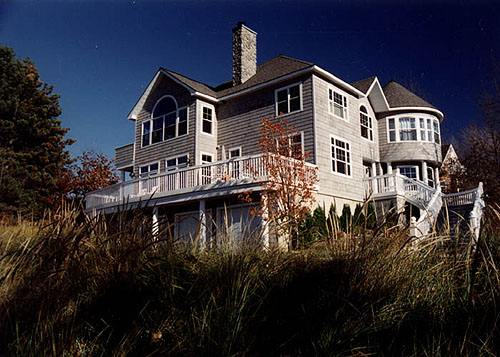 Welcome to Defrell Builders
De Frell Builders is a local, family owned, home construction, remodeling and renovation business in the Holland and West Michigan area that began in the late 1800's. The business has been handed down through family for 4 generations.The business is now being managed by a 5th generation although this time not a direct family connection it will continue with the same quality and care that has been there for the first 4.
Our mission today is to provide clients with professional construction services with the focus on satisfaction. Many customers have trusted us with projects ranging from new homes, major renovations and simple repairs.
Have you ever said someday we would like to remodel our home, or we would like to build a new home and you are not sure how to go about it? Please give us a call. Our number is 269-751-8758.
Our Client Speaks
"We are writing a sincere letter of recommendation for DeFrell Builders. We have been using them since 1973 when we did our first project with Jack DeFrell, the founder…….their work was top notch and working with them was a real pleasure. Currently….we have been dealing with (Jack's son-in-law) Woody Steketee. Woody is very easy to work with; he acts in a professional manner; he answers our phone calls promptly; comes when he says he will; and following the (DeFrell) tradition, he does excellent and careful work. He has also helped out some of our friends and they report good things about him."
"Woody Steketee and DeFrell builders were recommended to us when we were considering a rooftop deck on our condo in downtown Grand Rapids. It was a great recommendation. We were so satisfied……our inconvenience was at a minimum during construction….our deck is a source of pride. We are proud to show it off whenever possible. DeFrell Builders carefully followed our wishes into the plan, but (they) also made suggestions that we incorporated into the finished product, including some built-in flower boxes and a window in the cupulo……we were so pleased that when we got ready for our next home improvement project —removing a wall (and) re-designing a bathroom—we did not call around for estimates. We called DeFrell."
"Woody, Larry and Bob have completed many projects for us, including the initial building of our residence. They have also done several remodels, additions, and various other miscellaneous projects around our home. It is because of their quality workmanship, promptness, attention to detail, and fair pricing that we have been using the services of DeFrell Builders since 1996…and we will continue to do so for any future project we have. Therefore we highly recommend DeFrell Builders, without hesitation, for any building project needs you may have."
"I felt it was time to thank you for your workmanship and friendship. From the time you and your crew started the major second floor addition on our home you proved what a superior team can get done; being honest; coming in on budget and on time. Your input on some of the design was time and cost savings which was greatly appreciated. Through the years there have been many smaller projects and you always found the time to help me out. The project up North…. where I needed help to meet with the subs on how the job needed to be done, you went beyond the call of duty….I never could have done it without you. You and your team are very professional and I would recommend DeFrell Builders for any new home or home improvement project."
---
Click here to view all testimonials.
Proficiency
Whatever the task, DeFrell has the knowledge and the equipment to handle your project.
From the small tool shed in a back yard to utility buildings, second story additions, or a totally new home we have the proficiency to handle them all.
Integrity
We have built homes in the Holland area for over 40 years. One of the largest contributing factors to our longevity has been the trust of our clients. From the very first meeting we will give you an honest project evalutation.
We will seek out what is important to you and give you straight answers.
Commitment
A new client, another project. At DeFrell we accept this as our marching orders and thus begin a self imposed pledge to make you pleased with the outcome. We listen, suggest, double check and follow-up. When we are "not sure" we will not "assume".
Partners
Being a partner is just another way of saying "working together", and that is the way we approach each and every job.